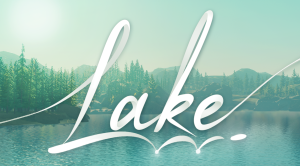 Publisher / client: Gamious, Whitethorn Games
Roles: game director, co-game designer, co-narrative designer
Lake is a narrative game about a small town in Oregon in 1986. Players take on the role of Meredith Weiss, who takes a break from her career in the big city to deliver mail in her hometown. How she will experience those two weeks in beautiful Providence Oaks, with its iconic lake and quirky community, is up to the player.
I'm so incredibly proud of Lake! What started out as a modest idea (based on an amazing picture I found) grew into a full-fledged narrative game for Xbox and PC. As game director, I lead the team of writers, programmers, artists, animators, and sound designers, and played a role in casting the voice actors for the 20+ characters in the story.
Together with Gamious' creative director I was responsible for all of the game and narrative design in Lake. I also took charge of organizing all of the narrative content (dialogues and branching storylines) in articy:draft, and its implementation into Unity, including cinematography.
In addition I assisted the development team by creating design documents and various prototypes of new gameplay features, and helped with implementation of 3D character models, animations and behaviour. I also playtested the game a lot, to be able to give constructive feedback to all team members on the features and assets each of them delivered.
Lake launched on Xbox and Steam on September 1, 2021. Other releases will be considered in the future.